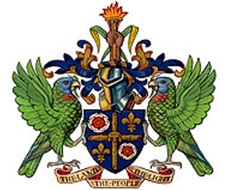 GOVERNMENT OF SAINT LUCIA
Ministry of Infrastructure, Port Services & Transport
METEOROLOGICAL SERVICES
HEWANORRA INTERNATIONAL AIRPORT
Tel: (758) 454 6550 or (758) 721 7139
Fax: (758) 454 9705
Hotline: (758) 454 3452
Website: slumet@gov.lc E-mail: slumet@yahoo.com
Date: 17th January 2020.
SPECIAL STATEMENT ON ROUGH SEA CONDITIONS.
Sea swells ranging from 5 to 9 feet or 1.5 to 2.7 will continue to affect the Lesser Antilles. A further deterioration in sea conditions is expected from Monday as swells generated by a low pressure reach the northern and eastern coasts of Saint Lucia. These swells are expected to persist for the two to three days before sea conditions gradually abate.
Small craft operators and sea goers are requested to be vigilant and exercise caution during their activities.
The Saint Lucia Meteorological Office will issue updates on sea conditions in its regular weather reports.
Maclean Jn Baptiste
Forecaster
Saint Lucia Meteorological Services